US 'to name Marc Grossman as Afghan-Pakistan envoy'
By Steve Kingstone
BBC News, Washington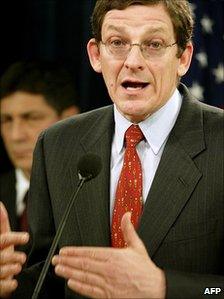 Retired diplomat Marc Grossman has been chosen as the next US envoy to Afghanistan and Pakistan, a US official has told the BBC.
The expected appointment follows the death of the previous representative, Richard Holbrooke, last December.
Secretary of State Hillary Clinton is expected to formally announce the appointment later this week.
Mr Grossman has spent almost three decades working for the US state department.
His career includes spells as US ambassador to Turkey and assistant secretary of state for Europe.
He helped direct US participation in the Kosovo war and after 9/11, marshalled international diplomatic support for the "war on terror".
He now faces an altogether bigger challenge.
This year, the first US troops are expected to withdraw from Afghanistan as the country's political leaders seek an accommodation with the Taliban.
In Pakistan, the new US envoy will be expected to restore a relationship that has been strained almost to breaking point by the row over an American official accused of committing murder there.
Back in Washington, Mr Grossman will answer to the White House, the US state department and to Congress - each with its own agenda and priorities.
The previous envoy, Richard Holbrooke, was a notoriously strong personality who, in particular, had an up-and-down relationship with the White House.
It is understood several candidates were considered to replace him.
Related Internet Links
The BBC is not responsible for the content of external sites.