US Senator Kerry says Raymond Davis will face inquiry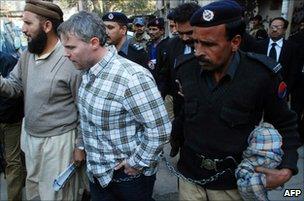 US Senator John Kerry has said a US man arrested for killing two Pakistani men will be subjected to a criminal inquiry at home if Islamabad releases him.
Senator Kerry also expressed regret over the killings, which have soured relations between the two countries.
The US envoy arrived in Pakistan on Tuesday to try to resolve the row caused by the arrest of Raymond Davis for last month's shooting in Lahore.
Mr Davis was taken into custody after confessing to the shootings.
He said that he shot the two men in self-defence as they were trying to rob him. A third person was run over and killed by colleagues who came to his aid.
The US government says it will prove before a Pakistani court on Thursday that Mr Davis has diplomatic immunity.
President Obama joined the row on Tuesday, saying that while he was not "callous" about the shooting, Mr Davis enjoyed diplomatic immunity under the Vienna Conventions.
"If they [diplomats] start being vulnerable to prosecution, that's untenable," Mr Obama said.
But Pakistan's former Foreign Minister, Shah Mehmood Qureshi, did not accept that Mr Davis was entitled to claim diplomatic immunity.
Mr Qureshi, who lost his job in last week's cabinet reshuffle, implied that his position on the Davis case had cost him his post.
He said there was no merit in Washington's stance and that, if summoned, he would testify that his advisers had told him Mr Davis might not have full immunity.
"God willing, I will side with the truth. I will never disappoint the nation," he told reporters after meeting Mr Kerry.
The BBC's Aleem Maqbool in Islamabad says that Mr Kerry is trying to defuse tensions over what has become a highly emotive issue.
"This case does not belong in the court. And it does not belong in the court because this man has diplomatic immunity as an administrator of technical employees of the embassy of the United States in Islamabad. We believe that documentation makes that clear," Mr Kerry said.
The senator said it was customary in an incident like this for the US government to conduct a criminal investigation.
"That is our law. And I can give you the full assurance of our government today that that will take place," he said.
"So there is no such thing as a suggestion that something is out of law or that America thinks somehow we're not subject to the law."
Our correspondent says that the announcement that Mr Davis will subsequently face a US criminal investigation will not be enough to appease many Pakistanis and whatever incentives or threats Mr Kerry applies, releasing Mr Davis is almost certain to cause an angry public backlash in Pakistan.
The Pakistani media has turned this into a matter of national pride and the initial bad handling of the case by diplomats on both sides has now made it very difficult for either Pakistan or America to back down, our correspondent says.
The case is threatening to derail US ties with Pakistan, a crucial ally in America's fight against militants.
"I want to come here today to express our deepest regret for this tragic event and to express the sorrow of the American people for the loss of life that has taken place," Mr Kerry said.
Mr Davis is charged on two counts - murder and possession of illegal weapons.
The court has ordered the Pakistani government to clarify US embassy claims that he has immunity. Mr Davis has reportedly been sent to the high-security Kot Lakhpat jail in Lahore. His next hearing is scheduled for 25 February.
Related Internet Links
The BBC is not responsible for the content of external sites.