Indian PM Manmohan Singh vows to fight corruption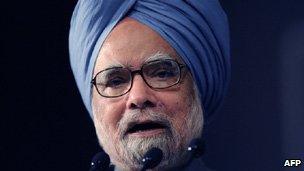 India's Prime Minister Manmohan Singh has vowed to crack down on corruption after a series of damaging scandals.
In a rare news conference Mr Singh said the impression that India was "scam-driven" was in no one's interest.
He acknowledged the standing of his Congress-led government had suffered.
The government is accused of losing billions of dollars by underselling telephone licences. Preparations for last year's Commonwealth Games were also dogged by corruption claims.
"An impression has gone round that we are a scam-driven country and nothing good is happening in our country, that we are weakening the self-confidence of the people of India," Mr Singh told a press conference shown live on news channels across India.
"I do not think that it is in the interest of anyone in our country," he said.
"I wish to assure the country as a whole that our government is dead serious in bringing to book all the wrongdoers, regardless of the positions they may occupy."
Mr Singh denied he had any direct role in the sale of the so-called 2G telecoms licences.
"As far as who gets licences, the first-come-first-served policy, how it is implemented, that was never discussed with me.
"Licences were not a matter which ever got referred to me or the cabinet. That was a decision exclusively of the telecoms ministry."
Federal auditors estimate the way the licences were awarded cost the country nearly $40bn in lost revenue, perhaps more.
Mr Singh said he had had no role in the appointment of the now disgraced former telecoms minister, Andimuthu Raja, who was a choice of the alliance partner DMK party.
"In a coalition government, you can suggest preferences for ministers but you have to go by what the leader of that coalition partner ultimately insists."
The prime minister also touched on other matters. He said high food inflation was a cause for concern and that the government was trying to bring it down.
"You have my assurance that at the end of this fiscal year, the inflation rate should come down to no more than 7%."
In recent months, the opposition has described Mr Singh's administration as "a lame duck government".
Correspondents say the press conference was an attempt by the prime minister to improve the image of his party and the government.
Related Internet Links
The BBC is not responsible for the content of external sites.