'Friends' defend Grameen Bank's Muhammad Yunus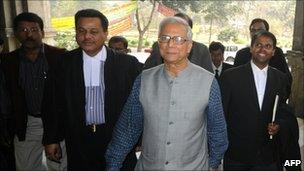 A group of charities led by former Irish President Mary Robinson has come to the defence of Bangladeshi Nobel laureate Muhammad Yunus.
The Friends of Grameen group alleges that he has been subjected to "politically orchestrated" and "increasingly aggressive" attacks.
The Grameen Bank he set up has been under the spotlight since late 2010.
A TV documentary alleged that aid money was wrongly transferred to another part of the bank in the mid-1990s.
The bank denied all the charges and later the Norwegian government, one of its main donors, gave it the all-clear.
Analysts say Prime Minister Sheikh Hasina fell out with Prof Yunus in 2007 when he tried to set up his own political party.
In December, she accused Prof Yunus of treating Grameen Bank as his "personal property" and claimed the group was "sucking blood from the poor".
The Bangladeshi government set up a review committee the following month to look into the bank's affairs amid reports that it could take it over.
And in a further sign of hostility between the two sides, on Tuesday Finance Minister Abul Maal Abdul Muhith told the BBC that Professor Yunus should retire because he had reached the normal age to do so for executives at private banks.
Friends of Grameen Committee Chair Mrs Robinson said that some highly visible private microcredit experiences had been set up around the world because of the pioneering work of Prof Yunus to provide loans to the poor.
"Because of the importance of such a role model, our duty is to protect the integrity of Professor Yunus and the independence of Grameen Bank," she said.
"One of our immediate focus points will be to urge an independent monitoring of the fairness and legality of the current dealings of the government of Bangladesh... with Grameen Bank."
The group - which includes former World Bank President James Wolfensohn - said that Prof Yunus and Grameen were the victims of "a campaign of misinformation".
Their statement said that while some microlenders had become "lucrative commercial enterprises", the Grameen Bank used "a sustainable model, with very transparent and reasonable interest rates, and making borrowers the owners of their bank".
Related Internet Links
The BBC is not responsible for the content of external sites.