Bhutan profile - Leaders
Head of state: King Jigme Khesar Namgyel Wangchuck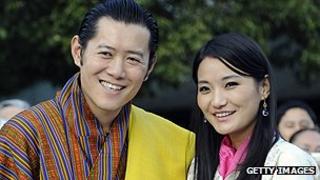 Jigme Khesar Namgyel Wangchuck succeeded his father, Jigme Singye Wangchuck, in December 2006 after the former monarch announced his abdication.
His formal coronation was postponed until after the country's transformation into a parliamentary democracy had been completed and did not take place until November 2008.
The new king, who was 26 when he became head of state, promised to build on his father's efforts to democratise Bhutan. His predecessor had already given up some of his absolute powers in 1998 and ruled in conjunction with the government, an assembly and a royal advisory council.
Jigme Khesar Namgyel Wangchuck studied in the US and at Oxford University, where he completed an MA in politics.
Ambassador
After graduating, the future monarch was encouraged by his father to travel abroad as an ambassador for the Bhutanese people.
He insisted that it was critically important for Bhutan to complete the process of becoming a constitutional monarchy, despite the reluctance of many Bhutanese to see a diminution of the monarch's powers.
In the run-up to the March 2008 elections, he travelled extensively around the country, encouraging people to take part in the vote.
The high regard in which the Bhutanese monarchy is held, and the former king's foresight in scaling back its powers, makes it unlikely that it will suffer the same fate as the royal family in Nepal.
In November 2011, the king married a commoner, 21-year-old student Jetsun Pema.
Prime Minister-elect: Tshering Tobgay
Tshering Tobgay was elected Bhutan's second prime minister in July 2013, succeeding Jigme Yozer Thinley.
President of what has been described as the world's smallest opposition party, Mr Tobgay led his People's Democratic Party to election victory in the second round of the July 2013 National Assembly election.
The country's struggling economy and its relationship with neighbouring India were key issues in the election campaign.
Mr Tobgay has said the country's much lauded concept of Gross National Happiness is overused and masks real problems facing the Himalayan nation. He said Bhutan should not be distracted from tackling pressing issues like increasing debt, chronic unemployment, poverty and corruption.
The country has been a democracy since 2008, when the king voluntarily relinquished his absolute power.
According to the constitution, the leader of the winning party in an election automatically becomes prime minister. However, Tshering Tobgay insisted on being elected by his party, in line with the ideology of the party.