Sri Lanka arrests Indian fishermen 'in its waters'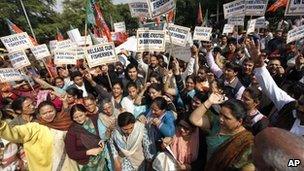 More than 100 fishermen from the southern Indian state of Tamil Nadu have been arrested in Sri Lanka.
The fishermen were allegedly fishing in Sri Lankan waters when they were seen and then prevented from returning home.
Diplomats are in talks to try to secure their release or bail.
Several thousand people protested in the Indian city of Madras (Chennai) against Sri Lanka over the incident, the latest in a continuing row between the two countries over fishing rights.
There was also a smaller demonstration in Delhi.
"This sort of behaviour is not acceptable between neighbouring countries," Indian Prime Minister Manmohan Singh said.
Fishermen in northern Sri Lanka recently told the BBC they were unhappy that Indians using big trawlers were entering Sri Lankan seas and overfishing.
But in late January distraught Indian villagers accused the Sri Lankan navy of killing two of their fishermen at sea.
That incident prompted the Indian foreign secretary to visit Colombo, expressing her country's deep concern.
The two countries now have a "joint working group" on fishing but it seems it has a lot of work to do to prevent similar incidents recurring, says the BBC's Charles Haviland in Colombo.