Bangladesh succumbs to Cricket World Cup fever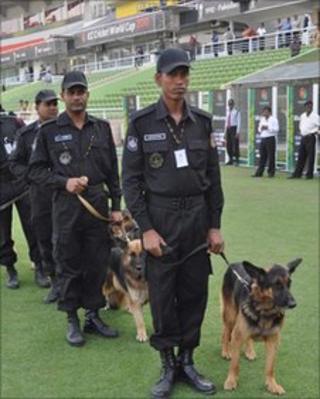 Bangladesh is fully geared up to host the biggest sporting event since the country's formation in 1971.
It is co-hosting the Cricket World Cup along with India and Sri Lanka.
Eight matches including two-quarter finals will be held in the cities of Dhaka and Chittagong. Bangladesh will also host the inaugural ceremony on 17 February in the capital Dhaka.
In contrast arguably to the somewhat muted pre-cup public atmosphere in India, in Bangladesh there is excitement all around.
A festive atmosphere prevails in many parts of the country ahead of the big event.
"I am so much excited that the World Cup will be held in our country. We are proud as a Bengali nation. A festive occasion is prevailing in our country and we have been waiting for this day," Dhaka University student Khalid Hossain said.
The tournament has generated such a buzz in Dhaka that this sprawling city is being enthusiastically spruced up by an army of workers ahead of the big event.
Festive look
The authorities are working overtime to lay new pavements and roads - while fresh coats of paint are being applied on strategically located buildings.
The main roads in the capital Dhaka - not renowned for their beauty - now have a distinctly more festive look. They are surrounded by flags, banners and colourful lights.
Police have evicted most beggars from the capital and schools and offices have been closed to ease traffic congestion during the key matches.
"I think this World Cup will give us an opportunity to create a positive image about the country, let the other world know about what is actually happening in our country," says another Dhaka University student, Sihab Bin Sadik.
Bangladeshi authorities have spent more than $100m on the tournament - the bulk of the money was used to renovate stadiums and improve infrastructure facilities.
Tickets for the matches have sold out quickly and many fans are disappointed that they cannot even get tickets even for the opening ceremony.
Many feel that Bangladesh's attempt to host cricket's biggest event is not just about sport - it also sends positive signals about the future of the country and its arrival on the international sporting arena.
'Also-ran'
"The very fact that the inauguration of this World Cup is in Dhaka itself is a sign of the world recognising us as a place where there isn't any conflict, which is very tolerant and does not have any communal disharmony," eminent writer and director Aly Zaker said.
But not everyone is satisfied with the preparations for the World Cup. The government's attempts to remove beggars from the capital drew criticism, especially from those affected.
"Not only me, but all the other beggars are not happy with the government's decision to evict us from the streets," Dhaka beggar Taslima Begum said.
"The authorities should have given us some money to maintain our family for this month."
Cricket fans are hoping that their team will fare better in this World Cup and come out of the "also-ran" category.
The team's recent successes against New Zealand and Zimbabwe have generated lots of optimism.
"It will be a better chance for our team to win matches this time because the environment is much more friendly. The whole nation is expecting them to do well," says student Sharmin Akther.
So, what Bangladesh will gain from the tournament?
"It will help us a lot in terms of the image of the country. We haven't had a good image for quite some time, we want to dispel some misconceptions. This will help us," Finance Minister AMA Muhith said.
"We are trying to get the entire country, people in all 64 districts to get behind the event. It is a big test, a big challenge for the nation."