Afghan activists condemn women's shelter takeover plans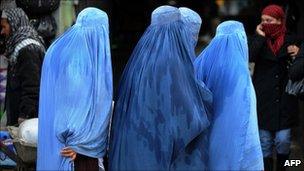 Activists in Afghanistan have condemned government plans to take over shelters for abused women, saying the move could put the women's lives at greater risk.
The government wants to take control, having accused the various groups running them of corruption and misuse of funds.
Afghan safe houses are largely financed by foreign aid groups.
The Afghan Women's Network denied the claims and said "women would suffer even worse odds to protect themselves".
The government said it had found problems in the operation of the shelters.
It said many women had been tricked into leaving home without good reason and accused the refuges of misusing funds.
There have also been media reports accusing the shelters of encouraging "immorality", prostitution and drug abuse.
An open letter by the Afghan Women's Network, a coalition of human rights groups, strongly denied all the allegations .
It said the government plans for the shelters would put vulnerable women at greater risk of violence, arguing that it would be easier for vengeful families to use influence or bribery to reclaim runaway women in state-run shelters.
It also accused the government of slipping "backwards" in its commitments to women's rights.
The government takeover could mean the closure of some shelters and women being interviewed by government officials before they were admitted to a refuge.
Activists have expressed fears that, at a time when the government wants to engage in peace negotiations with the Taliban, officials are trying to appease extremist elements in Afghan society with this move.