India telecoms scandal: Kalaignar TV offices raided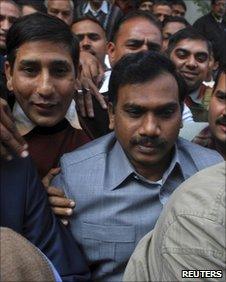 The offices of an Indian TV station owned by the family of an ally of the Congress party have been raided in connection with the telecoms scandal.
Raids began just after midnight at Kalaignar TV, run by the Dravida Munnetra Kazhagam (DMK) party, in the southern city of Madras (Chennai).
The raids are part of investigation into whether mobile phone licences were sold at below-market prices in 2008.
Former telecoms minister A Raja, a DMK member, was arrested in early February.
Claims that the government lost about $37bn (£23bn) in revenue have caused months of political conflict.
On Thursday, Anil Ambani, the billionaire chairman of Reliance Communications, was questioned by the Central Bureau of Investigation (CBI). His office said the visit was voluntary.
On Wednesday, Prime Minister Manmohan Singh vowed to punish those found guilty of fraud.
Related Internet Links
The BBC is not responsible for the content of external sites.