Mumbai gunman Mohammad Ajmal Qasab death penalty upheld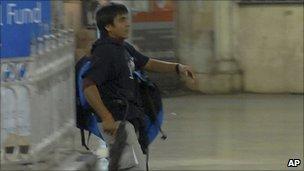 The high court in the Indian city of Mumbai (Bombay) has upheld the death penalty for the sole surviving gunman of the deadly 2008 assault on the city.
Rejecting his appeal against the sentence, the judges said Mohammad Ajmal Amir Qasab was guilty of waging war against India, multiple murder and conspiracy.
Qasab was given the death sentence by a lower court in May last year.
More than 170 people died when Qasab and nine others attacked the city.
The Bombay High Court in Mumbai said Qasab had the right to appeal to India's Supreme Court and that he would be given legal aid if he chose to appeal.
"The case was of extreme brutality. The crime was enormous and pre-planned. It was a threat to society," judges Ranjana Desai and Ranjit More said in their order explaining the reasons for upholding the death penalty.
The court said Qasab was "responsible for the murder of seven people directly and more than 66 people with an accomplice". He was involved in the killings of "the rest by conspiracy".
"Qasab killed innocent people, including women and children, mercilessly. He never showed any remorse," the judges said.
Qasab heard the court order through a video link from the Arthur Road prison where he is kept under tight security.
He wore a white jail uniform and smiled throughout the court proceedings, reports the BBC's Prachi Pinglay.
The court also upheld the trial court's order acquitting two Indians, Faheem Ansari and Sabauddin Ahmed, accused of playing a role in the attacks.
Ten gunmen attacked Mumbai on 26 November 2008. All of them except Qasab were killed during the attacks.
The 60-hour siege targeted luxury hotels, the main railway station and a Jewish cultural centre.
Qasab and an accomplice carried out the assault on the railway station, killing 52 people.
The attacks soured ties between India and Pakistan with India blaming Pakistan-based militant group Lashkar-e-Taiba for attacks.
After initial denials, Pakistan acknowledged that the Mumbai attacks had been partially planned on its territory and that Qasab was a Pakistani citizen.
But despite charging seven people in connection with the attacks, the Pakistani authorities have yet to convict anyone.
Relations with India have been slowly improving and earlier this month the two countries announced resumption of peace talks.