Kidnapped Indian engineer freed by Maoists in Orissa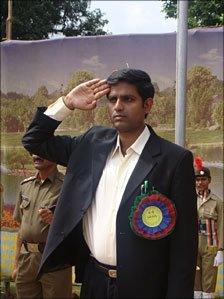 An engineer kidnapped by Maoist rebels in the Indian state of Orissa earlier this month has been freed, the state government has announced.
But it says there has been no word on the release of a magistrate who was kidnapped at the same time on Monday in a remote area of the state.
Engineer Pabitra Majhi is reported to be in good health after his ordeal.
He told doctors examining him that the health of district magistrate R Vineel Krishna was also good.
Correspondents say that Mr Majhi was released after hours of intense negotiations between senior state government officials and three interlocutors nominated by the Maoists.
The engineer was driven by motorbike from the place of his captivity deep inside the forests of Chitrakonda to a nearby town.
Correspondents say that the state government remains concerned that there is still no word on the release of Mr Krishna.
However Maoist sources have told the BBC that he will be released within a 48-hour deadline announced on Tuesday.
Mr Krishna, 30, is a graduate from the prestigious Indian Institute of Technology and joined the civil service in 2005. He was appointed to head Malkangiri district 16 months ago.
Meanwhile, a court in the state granted bail to top Maoist leader Ganti Prasadam on Wednesday afternoon.
"He will be released from jail after the High Court order reaches the lower court," Mr Prasadam's lawyer, Prashant Jena, said.
The release of Mr Prasadam was one of the major demands of the Maoists.
Prime Minister Manmohan Singh has described the Maoist insurgency as India's biggest internal security challenge.
Related Internet Links
The BBC is not responsible for the content of external sites.