Sri Lanka Tamil Tiger chief mother's grave 'desecrated'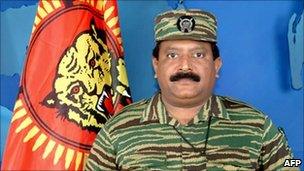 The cremation site of the mother of Sri Lankan Tamil Tiger leader Vellupillai Prabhakaran has been desecrated, relatives say.
They say that the bodies of three shot dogs were left at the site on Tuesday night - a gesture which correspondents say is a major insult to the dead.
Relatives of Mr Prabhakaran have said that the incident was a "barbaric act".
His mother, 81-year-old Parvati Pillai, was cremated at the site in the north of the island earlier on Tuesday.
Prabhakaran led the Tamil Tiger rebels for 25 years before being defeated and killed in May 2009.
The rebels were seeking a separate state for ethnic minority Tamils, claiming discrimination by the majority Sinhalese.
Correspondents say that his parents were not involved in politics, but were arrested by the military days after the war ended.
Mr Prabhakaran's father died in detention last year, but his mother was released and spent her last year in hospital.
The military, which has a large presence in the Tamil-majority north, has been accused in the past of destroying monuments and rebel graves in an attempt to eliminate every trace of them.