Pakistan drone attacks 'kill five militants'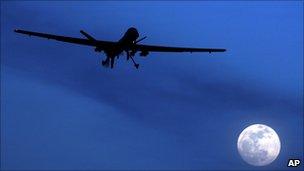 At least five militants, including two foreigners, have been killed in drone strikes in the Pakistani tribal region of North Waziristan, officials say.
Local administration officials said the foreigners were of ethnic Turkmen origin and were driving near Mohammad Khel in the Dande Darpakhel area.
The area is located about 30km (19 miles) west of the tribal region's main town of Miranshah.
Darpakhel is known to be a hideout for al-Qaeda militants.
The BBC's Syed Shoaib Hasan in Pakistan says that it also has several training compounds for foreign militants.
Local tribesmen told the BBC the first missiles struck the car carrying the Turkmen militants, destroying it completely.
Moments later, two more missiles struck a house said to be used by Taliban militants.
Three militants were killed in that attack and several others were injured.
Related Internet Links
The BBC is not responsible for the content of external sites.