India Godhra train blaze sentencing on 1 March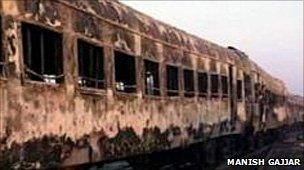 A special court in the western Indian state of Gujarat has delayed until 1 March the sentencing of 31 people found guilty of setting fire to a passenger train in the town of Godhra in 2002.
The prosecution has recommended the death penalty for those convicted.
The Sabarmati Express was attacked by a Muslim mob killing 59 people, mainly Hindu pilgrims.
The attack led to some of the worst riots seen in India and left more than 1,000 people, mainly Muslims, dead.
Gujarat's authorities were criticised for not doing enough to stop the riots.
On Tuesday, the court acquitted 63 of the accused. All of those accused and convicted were Muslim.
The attackers were said to have forced the train, carrying Hindu pilgrims returning from the northern town of Ayodhya to stop, and then set fire to one of the carriages.