Pakistan cricketers buoyant despite troubles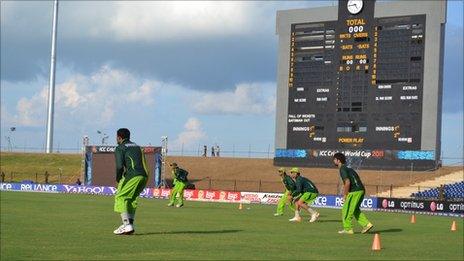 How does the Pakistani national cricket team feel as the subcontinent is gripped by World Cup fever?
They have been hit by scandals, including the recent guilty verdicts against players accused of bribery and the fleeing of a wicket-keeper to Britain, saying he was being blackmailed into cheating.
And those are just the latest in a long series of troubles.
Since the militant attack on the visiting Sri Lankan team's bus in the Pakistani city of Lahore two years ago they have been deprived of the right to host matches.
Instead they are playing most of their group matches in - ironically - Sri Lanka, perhaps the country's closest regional and cricketing friend.
A few days ago, with tight security, their team buses rolled into the sparkling new stadium at Hambantota, a vast edifice built in the space of one year in the arid jungles of southern Sri Lanka.
During a break in practice that afternoon a plaintive call re-echoed around the empty stands.
"Have you seen my flip-flops, my sneakers?"
Shoaib Akhtar has lost his slippers - and, grinning broadly, lets everyone know it.
No-one has lived through the team's ups and downs more graphically than this charismatic, mercurial fast bowler.
Akhtar has been involved in fights and drugs incidents, even faced suspensions himself.
Now, he tells the BBC frankly, the Pakistani team is being rebuilt.
"We are a very hurt side, I will be honest with you. Whatever we had to lose, we lost.
"Pakistan is going through so much. The country itself is - it's burning in pieces.
"And we wanted to send a good message across to the Pakistanis, all over the world, by winning the World Cup. So that's what the mood is."
Shoaib says this will be his last World Cup. By contrast, the 19-year-old opening batsman, Ahmad Shahzad, is just starting out.
Because of the ban on international games in his country he has never played an international match at home. But he is not dwelling on misfortune.
"What's gone is gone. Management handled it very nicely," he tells the BBC.
"I think we are a new generation, we are new bunch of crew, we had a very good win as well. So it's a very good combination with youngsters and seniors, we all gel around so we are all going to look for win."
As the team limbers up and then does fielding practice, the mood seems extremely upbeat with lots of banter and good humour.
Intikhab Alam - veteran Pakistan and Surrey player of days gone by, now the team manager - even tells me the turmoil has toughened up his squad.
"What we have gone through in the last six to eight months were not an easy time," he admits.
"But the good thing has happened is that now mentally we are very, very strong... It has helped in a way that we can come in in any situation, you know, we will not crack, under any pressure," he says.
Anyone watching them train and then coast to victory against Kenya in their opening match of the World Cup could imagine that nothing untoward had happened.
But the cricket journalist Osman Samiuddin, Pakistan editor for Cricinfo.com, believes the team's resilience will be tested in the longer term.
"Ultimately at some point down the line - maybe not this year, maybe not next year but four or five years down the line - they are going to start feeling that not being able to play at home in front of their family, more than anything in front of their friends - I think it's going to start weighing them down.
"But not so much right now - probably more later on as this team sort of grows."
But Mr Samiuddin also believes the turmoil in Pakistani cricket has somehow bound the game more tightly into the fabric of the nation.
In particular the Lahore attack "confirmed how close both life and cricket are in Pakistan... so every big result that Pakistan [wins] matters that much more, and every big loss also matters that much more as well."
At a news conference I asked Pakistan's coach, Waqar Younis, if he could imagine the side winning the World Cup outright, as they did in 1992.
"It'll be just awesome if we can manage to win it," he says.
"It's going to be really tough. But we have seen Pakistan cricket team in the past couple of decades - whenever things are tough and hard for them they really come out positive."
On Saturday feverish crowds in Colombo will watch the hosts, Sri Lanka, entertain Pakistan in a sell-out match.
Shoaib Akhtar is not predicting the result, but he does believe his side can keep up the good form it has recently enjoyed.
"After we've been through all the dramas - the Sri Lankan thing happened [in Lahore], our keeper runs away" - at this point he laughs - "and match fixing and everything, it's not easy for the team to cope with such pressure. But we still came out."
At the same time Waqar Younis admits it is up to him and the management to keep the players emotionally involved and geared up to play.
"On our discipline side we are trying to make sure that there are no more controversies," he says.
Tens of millions of Pakistani and other fans would agree with that.