Pakistan: Balochistan lawyers strike over 'kidnappings'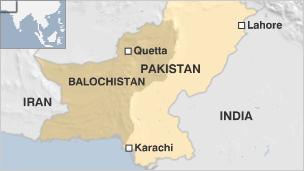 Lawyers across the Pakistani province of Balochistan are on strike to pressure the authorities to take action over a series of alleged abductions.
Two judges went missing in eastern Balochistan on Saturday night, local officials in Naseerabad district say.
Last week two lawyers from the regional capital disappeared in the area. Two others have been missing for months.
Lawyers say the men were kidnapped. It is not known who is responsible but kidnaps for ransom are rising.
Those protesting on Monday said they were striking because the government had failed to protect the people.
They blamed "terrorist groups" for the abductions, arguing that targeting the judiciary only makes the province more vulnerable.
The main march was held in Balochistan's provincial capital, Quetta. Before the demonstrations began lawyers locked the main courtrooms in the city before streaming out into the streets.
Wearing black arm bands, they demanded the government immediately move to rescue the judges.
The protests brought court activities to a standstill. The demonstrators maintained that they would continue their protests until the judges were safe and the government took strong action to restore order in the province.
They said that by failing to protect the judiciary it was sending the message that citizens should arm themselves for protection.
The two judges who disappeared on Saturday went missing while travelling from Dera Allahyar to attend a wedding in Osta Mohammad, in eastern Balochistan, officials said. Their car was found abandoned in Naseerabad district on Sunday morning.
In January, the administrative head of Jhal Magsi district was kidnapped and four policemen who ventured into the area after reports of his kidnapping were shot dead by unknown gunmen. He was released 10 days ago - analysts believe a ransom was paid.
The BBC's Syed Shoaib Hasan in Karachi says the protests by lawyers are likely to increase pressure on the government.
But Pakistan's political authorities appear unable or unwilling to rein in the organisations running rampant over Balochistan's civil society, our correspondent says.
Hundreds of local citizens, including doctors, lawyers and political activists, have disappeared in the province. Their bodies are often later found in shallow graves.
Security agencies say they have been kidnapped and killed by insurgent groups. But human rights organisations are increasingly holding intelligence agencies and paramilitary forces responsible.
Human rights group Amnesty International recently asked the Pakistani government to investigate the alleged torture and killing of more than 40 political leaders in the province.