Four Nato troops killed in country-wide Afghan attacks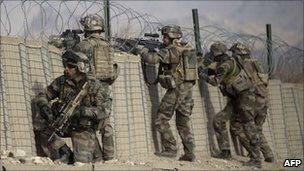 Four Nato troops have been killed in attacks across Afghanistan, the coalition has said.
It said that three troops were killed by roadside bombs in the east, south and west, while the fourth died in an insurgent attack in the east.
Nato commanders say that fighting is expected to increase with warmer weather in the coming weeks.
The latest deaths mean that 34 Nato personnel have been killed this month, after 31 were killed in January.
The nationalities of those killed has not been released.
Nato is pushing hard to remove insurgents from their strongholds in the south and east and improve security so the Afghan government and international community can bolster governance and development work.
Last year was the deadliest in the nine-year-old Afghan war for international forces, with 701 killed.
Related Internet Links
The BBC is not responsible for the content of external sites.