Anger as Pakistan announces oil and petrol price rise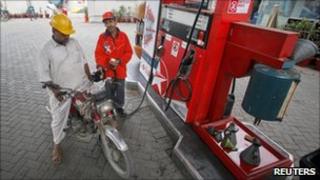 Pakistan has increased fuel prices by almost 10%, sparking an outcry from political groups.
The Oil and Gas Regulatory Authority (Ogra) announced a 9.9% rise in the price of petrol products.
A government ally, the Muttahida Quami Movement (MQM), has threatened "suitable action" if the rise is not withdrawn within three days.
In January a fuel price hike was reversed after the MQM quit the ruling alliance to protest against it.
The government lost its majority in parliament and had to concede to demands to reverse the rise or the prime minister would be subject to a vote of no confidence.
Ogra says that the latest rise is necessary because of instability in North Africa and the Middle East.
Rise 'inevitable'
The price of petrol has risen by 7.23 rupees (8.5 US cents; £0.05) per litre to 80.19 rupees (94 cents; £0.58 ), while the price of diesel has risen by 7.90 rupees to over 85.65 rupees a litre.
Although international petrol prices have risen by 23.4% since November 2010, Pakistan has only proposed an increase of 9.9%, according to Ogra spokesman Syed Jawad Naseem.
He said that by failing to increase oil prices over the last three months, the government has paid out as much as 13bn rupees ($153m; £93m) because of oil subsidies.
Experts say the rise is inevitable and that the government would be facing a financial crisis if the price rise was delayed any further.