India's anxious wait for stranded in Libya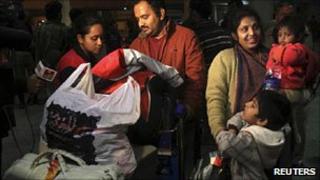 There cannot be many places more reliant on the earnings of migrant workers than Kerala.
At least four million people born in this relatively small and sleepy tropical state near the southern tip of India now live and work abroad.
Most of them are in Arab countries and so it was no surprise that the first Indian off the special rescue flight put on by the Indian government turned out to be from Kerala.
Mohammed Sali spent 31 years in Libya, but was abruptly forced out at knifepoint.
"One man came to me with a knife and took away all my possessions - money, laptop and my car," he told reporters on arrival.
When looters attacked the oil refinery where he was working he said he had hidden under a huge metal container while gunfire rang out around him.
Even as he queued up at the airport to escape the country Mr Sali was forced to hand over his mobile phone to a security guard - in case he had used its camera to film the anti-Gaddafi protests.
Since the weekend, India has organised a series of emergency flights to evacuate its nationals from Tripoli. A ferry has been sent to the port city of Benghazi, and three warships are also on their way to the Mediterranean.
Tense time
But it remains an anxious time for the relatives of those still trapped in the country.
In a public call centre in the town of Trissur, I met CV Johnson and his neighbour PV Richard unsuccessfully trying to get through to Benghazi.
Mr Johnson's wife and Mr Richard's daughter both work there as nurses, along with 200 others from Kerala.
Although Benghazi is now relatively peaceful, they said that the women had been traumatised not only by living through the violent demonstrations, but also from treating wounded protesters.
Mr Richard has not spoken to his daughter for four days. My wife is crying, we just don't know how she is," he said.
Mr Johnson said that the nurses were not allowed to get on the first ferry that India had sent and also that they had not been paid.
"The worst moment was four days ago," said Mr Johnson, who looks after the couple's three young daughters alone while his wife is abroad. "The protesters were being killed and then we heard that they were running out of food because the shops were closed.
"We want her to come home to India and then never leave. Every night we have bad dreams. Is she alive or is she dead?"
Kerala's economy is inextricably linked to that of the Middle East, and has thrived as a result.
Despite recent events there is no shortage of young people planning a life abroad.
"We are all aware of these kinds of problems but in order to get a good standard of living we are compelled to go abroad," said student nurse Priyankur Noble.
"No, I am not worried and anyway we are compelled to go - I'll take each day as it comes," her friend, Titu Jacob, agreed.
There are villages here where almost all the young have left. It makes Kerala, like parts of Bangladesh, Pakistan and Nepal, extremely vulnerable to political turmoil in the Middle East.
'Dynamic' people
The majority live in wealthy Gulf states, which show no sign of descending into Libyan-style violence. But there have been protests in Bahrain and Oman, which both have large south Asian populations.
The director of the nurses' language school, Naipunnya International, Father Jose Thottakara thinks Kerala's migrants are ready to cope.
"People here are dynamic. If there is a problem in a certain country they just choose a different destination," he said.
"Also in each family two or three children will be sent to different countries, and if a family has a daughter, then 50% of them will be nurses. So if there is trouble on one front, another front opens up."
Even as the Indian government flies people out of Libya, many more are going in the opposite direction - to take up work elsewhere in the region.