Pakistan could be top of UK foreign aid list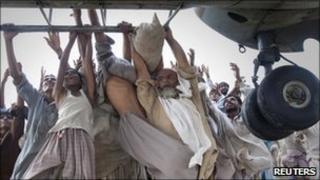 Pakistan could become the UK's biggest aid recipient by 2015.
Plans unveiled by the International Development Secretary Andrew Mitchell indicate aid could more than double, reaching £446m ($726m) a year.
But Pakistan's government will have to introduce real reforms in order to secure the funding, officials say.
They say authorities should push for the extra investment by tackling corruption and introducing economic reforms - like broadening the tax base.
"If Pakistani politicians are failing to pay their own taxes, the aid will get harder to justify," one official said.
Half of the spending will be on education, one of Pakistan's greatest weaknesses.
More than 40% of children under nine here do not go to school. The aim is to buy text books, train teachers and get an extra four million children into classrooms over the next four years.
Last October, a group of 26 nations and global institutions urged Pakistan to reform its economy and government.
In response, Islamabad said it was raising more taxes from its wealthiest citizens and urged improved access to EU markets to boost Pakistan's economy.