Pakistan transport strike hits Karachi businesses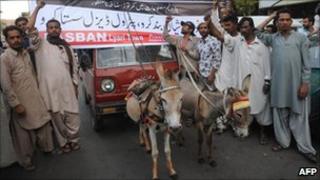 Transport and business in the Pakistani city of Karachi have been severely disrupted because of a strike called by private transport operators.
They are angry over a move to increase fuel prices by almost 10%.
A government ally, the Muttahida Quami Movement (MQM), which governs Sindh province whose capital is Karachi, has opposed fuel price rises in the past.
An attempt to hike prices in January was reversed after the MQM quit the ruling alliance in protest.
The move meant that the government lost its majority in parliament.
It was forced to reverse the rise or the prime minister would have been subjected to a vote of no confidence.
The government says the latest price hike is necessary because of rising international oil prices. This time it insists that the decision will not be reversed.
It says that by failing to increase oil prices over the past three months, it has had to pay out as much as 13bn rupees ($153m; £93m) in oil subsidies.
Previous strikes in Karachi, Pakistan's business capital and its main economic hub, have resulted in losses worth millions of dollars as thousands of office and factory workers were prevented from reaching work.
The BBC's Syed Shoaib Hasan in Karachi says that people across the city on Thursday were confronted by the rare sight of roads almost entirely devoid of traffic.
A spokesman for the city's main transport union told the BBC the government had to reverse its decision.
He said transport would return only if the government allowed fares to rise in line with the new fuel prices.
Our correspondent says that millions of people including commuters depend on privately owned transport to travel across the country, and any decision to raise fares is almost always met with massive protests and rioting.
There is very little publicly run transport in the city.
Pakistan's main political parties - including some in the ruling coalition such as the MQM - have also weighed into the debate.
They say that they will join the protests if the decision is not reversed immediately.