Maldives profile - Media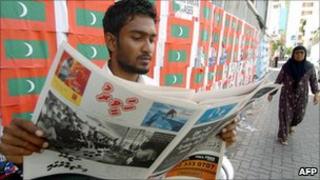 Private broadcasters operate alongside outlets run by Public Service Media, a state body.
Non-state media report coming under pressure, and Reporters Without Borders (RSF) says journalists operate in a climate of violence and impunity.
It says the government "continues to persecute the independent media", and that political parties are the main source of threats.
A 2016 law criminalised defamation, allowing the authorities to fine or close media for content deemed defamatory.
Raajje TV, a leading pro-opposition outlet, said in 2017 that the authorities were seeking to shut it down by imposing large fines under the legislation.
There were 270,000 internet users by June 2017 (Internetworldstats.com).
The press/websites
Television
Radio