Maldives profile - Timeline
A chronology of key events: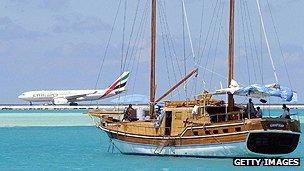 12th century - Islam introduced.
1558-1573 - Portuguese occupation, which ends after expulsion by locals.
17th century - Islands become a protectorate first of the Dutch rulers of Ceylon (Sri Lanka) and later of the British who take control of Ceylon in 1796.
1887 - Status formalised as internally self-governing British protectorate.
1932 - First democratic constitution proclaimed. The sultanate becomes an elected position.
1953 - Becomes a republic within the Commonwealth as the sultanate is abolished. However, the Sultan is restored within months.
1965 - Full independence as a sultanate outside Commonwealth.
1968 - Sultan deposed after referendum; republic reinstated with Ibrahim Nasir as president.
1978 - Nasir retires, replaced by Maumoon Abdul Gayoom.
1980s - Development of tourist industry fuels economic growth.
1982 - Rejoins Commonwealth.
1988 - Coup attempt involving Sri Lankan mercenaries foiled with the help of Indian commandos.
1999 November - Parliamentary elections take place, with more than 120 independent candidates contesting 40 seats.
2002 September - President Gayoom warns low-lying islands at greater risk than ever before, and calls on international community to take urgent action to prevent global environmental catastrophe.
2003 September - Unprecedented anti-government riots break out in Male, sparked by deaths of four prison inmates.
2003 October - Mr Gayoom re-elected for unprecedented sixth term in presidential referendum, winning more than 90% of the vote.
2004 June - President Gayoom promises constitutional changes to limit presidential term and allow formation of political parties.
2004 August - State of emergency imposed after a pro-democracy demonstration turns violent. Almost 100 people are jailed.
2004 December - Scores of people are killed and many islands suffer severe damage when a tsunami generated by a powerful undersea earthquake off the Indonesian coast hits the Maldives. The government says the disaster set development work back by 20 years.
2005 June - Parliament votes unanimously to allow multi-party politics.
2005 August - Opposition party leader Mohamed Nasheed is charged with terrorism and sedition.
2006 March - President Gayoom unveils a "roadmap" for democratic reforms, which he says will enhance multi-party politics.
2006 August - President Gayoom pardons senior opposition figure Jennifer Latheef, who was serving a 10-year term on terrorism charges, but she refuses to recognise the pardon and demands a retrial to clear her name.
2007 August - Voters in a referendum back President Gayoom's proposal for a presidential system of government.
2008 January - President Gayoom survives an assassination attempt after 15-year-old boy scout Mohamed Jaisham wrestled a kitchen knife from the would-be killer's hands.
2008 August - President Gayoom ratifies new constitution that paves the way for first multi-party presidential elections.
2008 October - Opposition leader Mohamed Nasheed defeats President Gayoom in second round of voting, inaugurated as president in November.
2009 March - President Nasheed says the Maldives will become carbon-neutral within a decade by switching completely to renewable energy sources.
2009 April - President Nasheed says government will deregulate the state-controlled media and ensure media freedom and competition.
2011 May - Police clash with opposition-led protesters complaining about food prices.
2012 January - Row erupts over arrest of the chief justice, who ordered the release of a government critic.
2012 February - President Nasheed announces his resignation after a mutiny by the police and weeks of demonstrations over the arrest of the chief justice. Later, he says he was forced out in a coup.
Vice-president Mohamed Waheed Hussain Manik is sworn in as president.
2012 July - Former President Nasheed is charged with illegally ordering the arrest of the chief justice, as Nasheed supporters demonstrate and demand early elections.
2012 August - Commonwealth-backed investigation dismisses claims that coup forced Mohamed Nasheed to step down in February. The report says Mr Nasheed resigned voluntarily.
2013 October - Supreme Court annuls the result of the first round of presidential elections held in September because of alleged irregularities.
2013 November - Abdulla Yameen, half-brother of former President Gayoom, wins presidential election run-off.
2014 March - The Maldives Supreme Court gives all four election commissioners six-month suspended jail sentences for "disobeying orders". In October 2013 the head of the commission criticised the Supreme Court after it annulled presidential election deemed free and fair by observers.
2015 March - Former president Mohammed Nasheed is jailed for 13 years after being found guilty on terrorism charges. The verdict, which his party says is politically motivated. elicits international concern from governments and rights groups.
2015 - November - Government declares state of emergency for 30 days ahead of mass rally in support of jailed former president Nasheed, allowing security forces to detain suspects without charge, and shutting down major online news sites.
2015 - November - Government lifts state of emergency following mounting international pressure.
2016 February - Sheikh Imran Abdulla, the leader of the Islamist opposition Adhaalath Party, is jailed for 12 years on a terrorism charge for inciting unrest during an anti-government rally.
2016 May - Former president Mohamed Nasheed is granted refugee status in Britain.
2016 June - Former vice-president Ahmed Adeeb is convicted of plotting to assassinate President Abdulla Yameen and jailed for 15 years.
2016 August - Parliament passes new defamation bill despite US-led international concern that it risks undermining basic freedoms.
2016 October - The Maldives announces it is leaving the Commonwealth. The international organisation had earlier warned the country that it risked suspension if it failed to show progress in promoting democracy.
2018 February - Political turmoil as government defies Supreme Court order to free prisoners whose convictions it had quashed.
2018 September - Opposition leader Ibrahim Mohamed Solih scores surprise win over President Abdulla Yameen in presidential election.