India PM Manmohan Singh admits PJ Thomas 'error'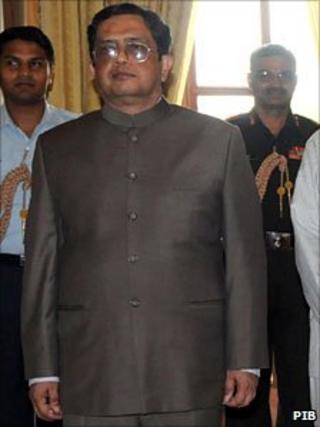 Indian Prime Minister Manmohan Singh has admitted in parliament that he made an "error of judgement" when he appointed the head of India's anti-corruption watchdog.
Mr Singh said he accepted full responsibility for appointing PJ Thomas as anti-corruption chief last year.
Mr Thomas was forced to resign by the Supreme Court last week.
The court overturned his appointment on the grounds that he himself faced corruption charges dating from 1992.
Mr Thomas denies the charges and had long resisted demands by opposition parties to quit.
The prime minister had earlier admitted responsibility for the appointment of Mr Thomas on a trip to Indian-administered Kashmir.
But the opposition insisted he make a statement in parliament admitting responsibility for the appointment.
Mr Thomas says that charges against him in a case involving palm oil imports when he was a senior civil servant in the southern state of Kerala in 1992 are baseless.
Mr Thomas and other officials are accused of accepting a contract for importing palm oil at inflated prices, thereby causing significant losses to the public purse. They were all accused of conspiracy to defraud the state government.
Mr Thomas has never been arrested or appeared in court in relation to the accusations against him. The charges have also never been tested by a judge in court.