Somali pirates free Indian crew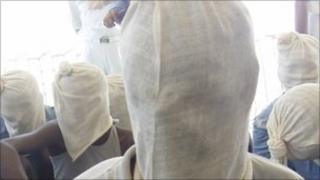 Somali pirates have freed 11 Indian crew members of a ship they captured almost a year ago.
The pirates boarded the MV Rak Afrikana near the Seychelles on 11 April last year, taking 23 crew members hostage.
Indian authorities said the freed crew were being brought back to India aboard a Spanish naval ship. It is not clear if any ransom was paid.
Officials say 79 Indians on seven ships are still being held by pirates.
Negotiations are in progress to release another six Indians aboard another ship, the MV Suez, reports say.
India's main opposition Bharatiya Janata Party (BJP) says the ruling Congress party-led government is not doing enough to secure the release of Indians taken hostage by Somali pirates.
Foreign Minister SM Krishna said the government was doing "everything possible" to secure their release. He added that 136 of 215 Indians taken hostage by the pirates over the last year had already been freed.
Last month, a group of 28 suspected Somali pirates captured in the Indian Ocean were handed over to the Indian police.
Somalia has had no functioning central government since 1991, allowing piracy to flourish off its coast.
Somali pirates have made millions of dollars by capturing cargo vessels in the shipping lanes around the Horn of Africa and holding the ships and crew for ransom.
But stricter naval patrols in those waters have led pirates further afield.
As they have expanded their area of operation, surveillance of the Indian Ocean has been stepped up.
A recent US study found that maritime piracy costs the global economy between $7bn (£4.4bn) and $12bn (£7.6bn) a year.