Bid to rescue Danish hostages from Somali pirates fails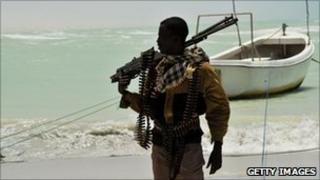 An attempt to free a Danish family recently taken hostage by Somali pirates has failed, officials say.
Jan Quist Johansen, his wife, their three children, and two other adults were taken hostage on 24 February.
Soldiers from the semi-autonomous region of Puntland tried to rescue the hostages but were ambushed on their way to the pirates' mountain hide-out.
A number of soldiers were killed but the hostages were some distance away and are all reported to be safe.
The pirates had earlier warned that the Danish family would be killed if any rescue attempt was made.
The BBC's East Africa correspondent Will Ross says it is not clear why the Puntland soldiers chose to intervene, given the risk involved.
The Johansens had been sailing in the Indian Ocean apparently aware of the danger of piracy.
Their yacht was seized just two days after four Americans aboard another hijacked vessel were shot dead during an effort by the US military to free them.
It is not known whether the pirates have made a ransom demand yet.
Our correspondent says although hostages are generally reasonably well looked after, the recent use of military force by some naval forces has led to the pirates threatening more violence.
Somalia has had no functioning central government since 1991, allowing piracy to flourish off its coast.
One piracy monitoring group reports that more than 40 vessels and 700 hostages are currently being held.