Char Gul: The barber of Kabul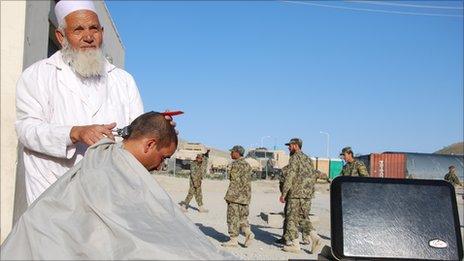 Throughout decades of turbulence, the barber at Kabul's military training academy kept his shop open. Char Gul has cut the hair of generations of Afghan soldiers who went on to positions of power or to perish on the battlefield. The BBC's Bilal Sarwary met him.
It is not a lucrative profession, but Char Gul's vocation was as a barber and he has witnessed more than 50 years of tumultuous change in Afghanistan, cutting the hair of soldiers at Kabul's training academy.
"My father wanted me to go to school. But I didn't like books, exams or teachers. All I wanted to do was play the doal [an Afghan drum] and cut hair," the 69-year-old said.
At the age of 19, Char Gul decided to enrol in the army and travelled from his home village in Wardak province to the capital.
There was instant recognition for his talent at the Kabul Military Training Centre - but as a barber not a soldier.
"As a test, I was told to give haircuts to recruits. Perfection with speed is what an army strives for," he said.
"I succeeded in giving crew cuts to two dozen soldiers in one hour flat!"
Thousands of soldiers have entrusted their locks to his shears, including the country's current defence minister - who still gets the occasional haircut from Char Gul.
As the country lurched from one crisis to the next, Char Gul says he just kept on cutting hair. Throughout it all, the military academy continued to turn out soldiers.
Many of his customers rose to high ranks in the army, some became generals and a few even ministers. Many others were killed in combat.
But he remained a confidant for nervous recruits with little idea of the brutality in store for them. They would talk about their problems with him.
"Solders talk about... how they miss home, they talk about their girlfriends and wives. They talk about fatigue, war and sometimes, ask me questions about the war, about KMTC," he said.
Soldiers who go on to become senior officers stay in touch with him and Char Gul says this is his true home now.
"I was recently asked if I wanted to retire. But I said, I will retire the day I die. This is my family now.''
Char Gul has yet to meet Hamid Karzai, but he has met a host of other Afghan leaders over the years.
The country's last king, Zahir Shah, and former presidents Daud, Taraki, Amin, Babrak Karmal and Najibullah were all introduced to Char Gul when they came to inspect the military - he played an important role in keeping the soldiers' hair neat and trim.
When he started in the 1960s, the academy was recruiting and training soldiers to serve under Zahir Shah.
"The king was a gem," he recalls.
"I met him when he visited the KMTC to attend a parade. He was extremely soft-spoken and his eyes were full of kindness. His rule was the golden phase for Afghanistan."
But the king was deposed a decade later by his cousin and brother-in-law Daud Khan. There began a period of coups and intense instability and then Soviet troops invaded.
"The arrival of Russian troops was the beginning of a bloodbath and misery in Afghanistan which still continues," Char Gul says.
By 1991 he had experienced six rulers but he continued to serve until the Afghan army was dissolved after the collapse of the last Moscow-backed president, Najibullah, and the emergence of the US-backed Afghan Mujahideen.
Like many Afghans he found the ensuing five years of civil war, followed by another six of Taliban rule, the darkest of his life.
"There was a government in every corner of Kabul," he said. "Once I was stopped by one of the groups and nearly killed but my days were not over yet."
He kept a low profile and avoided working during the time of the Taliban.
The academy fell out of use as a military training centre. It became part of the front line during the civil war and under the Taliban it was the ministry of defence. When the US ejected the Taliban in late 2001, they refurbished the entire building.
"I went back to my old job again," Char Gul said with a smile.
One senior officer says of the barber: "The most amazing thing is how he managed to keep his job throughout his career."
"Many things have changed. But this barber shop remains the same," says Char Gul.
As soon as new recruits enter the academy they come into contact with him - the familiarity and intimacy between soldiers and barber are clear to see.
"Sit up straight!" teases Char Gul as he prods a young soldier from Wardak on the side of the head. "You're in the army now."
Char Gul has also been given the role of playing the doal during the annual graduation ceremony.
"Soldiers, young and old, break into dance when I play the drum," says the barber. "This gives me a sort of hope.
"If a simple thing like music can bring us together, the love for our country, which is stronger and deeper, can surely keep us together in difficult times."