Bangladeshi woman's pirate hijack ordeal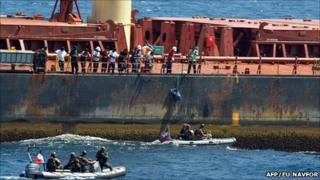 The Bangladeshi ship, the MV Jahan Moni, has returned home after being hijacked by Somali pirates in early December. Rukhsana Gulzer, the only woman on board, tells the BBC's Anbarasan Ethirajan about life under the pirates' harsh regime.
Every day prior to the hijacking I took a nap after lunch. But on the fateful day - 6 December - I could not sleep for some unknown reason.
Suddenly the fire alarm rang. It did so for a long time and nobody stopped it. Then fear ran down my spine. I suspected something ominous was going to happen.
After a long while my husband, who is the ship's chief engineer, came from the engine room and informed me that pirates had attacked us. He said that they were not successful in their first attempt and had left. But again the fire alarm started ringing and a ripple of fear ran through me.
My husband took me on the bridge of the six-decked ship. We saw six heavily-armed pirates with bandoliers [broad belts] climbed up to board it. We all lay down on the deck. Later another boat of pirates came - around 15 to 16 of them took control of the ship.
We spent much of the night on the floor. At midnight, the leader of the pirates gave me a pillow and a blanket from one of the cabins.
It was the month of December and it was severely cold at night. Everyone was shivering but I could not really feel the cold because fear of losing my life gripped me and I was also afraid of being dishonoured.
When the crew members of our ship wanted to go to the toilet, they were all frisked before they were allowed to go. I thought that they would do the same to me.
They threatened to kill my husband on two occasions.
'Gun to the head'
When an Indian ship approached us, the pirates threatened all of us with death if we tried secretly to communicate with it. They ordered my husband to communicate with the vessel and tell it to move back.
On another day they threatened to kill my husband because for some technical reason the ship was not moving fast enough. They held a gun to the back of his head and ordered him to make it go faster.
They gave me a cabin seven days later. Twelve days later they gave us the opportunity to talk to our families. But I was so upset that I could not talk to my family at that time.
One month later, after I cried a lot, the leader of the pirates gave me a chance to talk to my family again.
Everyday we recited the Koran and prayed five times. Some of our captives showed a little sympathy to us for being Muslims.
Sometimes they told us that we were going to be released soon. Sometimes they used to fire indiscriminately. They had huge amounts of ammunition. We had food for three months when we left Singapore.
But it quickly ran out because they shared our food. Later they used to bring goats, rice, potatoes and pulses for us and for themselves.
I have sailed a lot in my life and never before had I experienced any difficulties. That is what made this trip quite unnatural.
I do not want to sail anymore. Now I am leading a free life. When my relatives came to meet me, I could not hold back my tears for joy and happiness.
Over the last three months, I was beginning to think that I would never set foot on land again, I thought that my body would be buried in the water. Always I was preoccupied with morbid thoughts.
Sometimes they talked about how they had hijacked another ship.
They took us to hide in four places in Somalia. In one place, we saw 10 ships hijacked by the Somali pirates. Sometimes we saw helicopters and naval ships but none of them would come near us.