India: Warren Buffett and Bill Gates court tycoons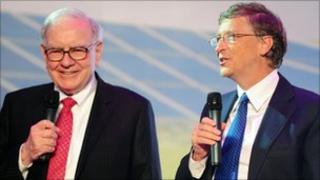 Two of the world's richest men are in India to urge tycoons there to give away a share of their fortune for charity.
Microsoft founder Bill Gates and investor Warren Buffett met Indian industrialists at a Delhi hotel.
It is yet to be seen how many of India's 55 billionaires will part with some of their their wealth.
Correspondents say that charitable giving on a large scale in India is yet to take off.
But Bill Gates said that it was not his intention to make anyone feel guilty about not contributing enough.
"Our goal is just to talk about philanthropy and learning from other people, " he said.
"But we're not trying to make anyone feel guilty. We're just here to talk about why we do it and see if there's a chance to work together."
Bill Gates and Warren Buffett have been successful in encouraging some of the wealthiest people in the US and China to contribute to charity.
Indian billionaires who have followed suit include Wipro chairman Azim Premji, who donated £2 bn (£1.24 bn) to educational causes and, more recently, GM Rao, the chairman of the GMR group who pledged $340m (3210m) to charity.