Afghanistan: Nato air strike kills civilians in Helmand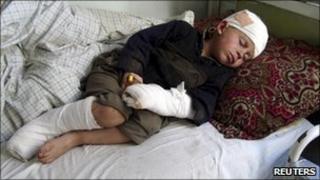 Western forces have accidentally killed a number of civilians in an air attack in the Afghan province of Helmand, the governor's office there has said.
Nato said it ordered the attack on Friday after hearing that a Taliban leader and several of his subordinates were travelling in two vehicles.
The car that was targeted had exploded next to another carrying the civilians, who included some children.
The air strike took place in the Naw Zad district.
Seven men, women and children were killed in the attack, the office of the provincial governor said.
The Nato-led International Security Assistance Force said it was targeting a Taliban leader and other militants, but Isaf spokesman Major Tim James could not confirm whether the Taliban chief was present.
Helmand is one of the biggest flashpoints in the Taliban insurgency, which began after a US-led invasion brought down their regime in 2001.
Nine children died in another Nato air strike in eastern Kunar province earlier this month.
That led the US troop commander in Afghanistan, General David Petraeus, to make a public apology.
The issue of civilian deaths has severely strained relations with Afghan authorities.
President Hamid Karzai told Gen Petraeus his apology for the deaths of the nine children was "not enough".
Update 31 March 2011: Isaf subsequently announced that three men it said were militants and four civilians - two women and two children - had been killed in the attack. The figures in this report have been amended to reflect that.