India army criticised over 'illegal' golf courses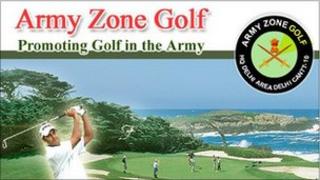 India's national auditor has criticised the armed forces for illegally running nearly 100 golf courses and sports clubs on government land.
It says that the military is the country's largest land owner and has 97 courses, covering at least 8,000 acres.
But it says they should not have been built in the first place, as golf is not an authorised military activity.
An army spokesman said the report was wrong to suggest that civilians were allowed to be members of the clubs.
"These areas are parks which include golf courses. Army men like to play golf. What's wrong with that? And these areas are very beautiful," spokesman Om Singh told the AFP news agency.
'Spectacular'
The report by the comptroller and auditor general described the army's management of its huge land holdings as dismal.
It found that at least 32 sq km (12 sq miles) of rent-free land had been handed to a privately-run company, Army Zone Golf, which operates 97 luxury golf courses.
Army Zone Golf claims to promote the sport in the armed services and runs "some of the most spectacular golf courses of India", according to its website.
The report said that golf memberships are being sold to serving and former service personnel as well as civilians and foreign nationals, with revenue credited to a private regimental fund which could not be accessed by the auditors.
It said that army authorities "earn large amounts of revenue by allowing persons other than service personnel to use these facilities".
"Heavy amounts of revenues were being earned without paying any lease rent and allied charges for use of government assets," it said.
The BBC's Mark Dummett in Delhi says that the report is likely to reinforce fears in India that corruption is spreading through even its most trusted public institutions.
Our correspondent says that Indian army officers have enjoyed their golf since colonial days - it is common for army camps to have their own courses and sports clubs.