Indian actor Shiney Ahuja jailed in rape case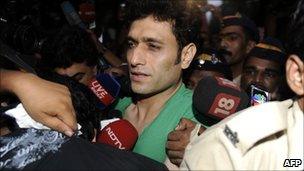 Award-winning Bollywood actor Shiney Ahuja has been sentenced to seven years in prison for raping his maid.
The actor was found guilty by a special fast-track court in the Indian city of Mumbai (Bombay). He has maintained his innocence throughout the trial.
His lawyer said he would appeal against the sentence.
Ahuja was arrested in June 2009 and charged with rape, criminal intimidation and wrongful confinement. He was granted bail in October.
But the court ordered the actor to stay away from Mumbai while on bail.
Judge PM Chouhan pronounced Ahuja guilty on Wednesday despite the 20-year-old victim withdrawing her allegation of rape last year.
She said she was told to complain to police by another woman who had got her the job with the actor.
Ahuja is seen as an up-and-coming actor who has made an impression in Bollywood's independent cinema scene.
He has acted in films such as Life in a Metro and Gangster, and worked with a number of leading directors.
He won several awards for his 2003 debut in the critically acclaimed film Hazaaron Khwaishein Aisi.