More arrests in India fake pilot's licence scandal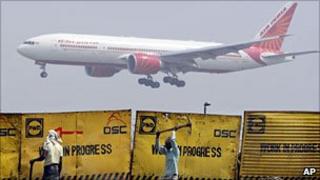 Two people including a pilot have been arrested in the Indian state of Gujarat for allegedly using fake documents to procure pilot's licences, police say.
The licences of at least 14 pilots suspected of flying after submitting false paperwork have been revoked by aviation authorities.
At least five pilots have been arrested by police in Delhi, while two others have been held by police in Rajasthan.
Last month a government official was arrested in connection with the scam.
A senior official in the Directorate General of Civil Aviation (DGCA) - the country's aviation watchdog - was responsible for granting licences to flying students, police said.
They said that the official was being questioned to determine the extent of the fake licensing network.
Officials say that the licences of 3,000 to 4,000 pilots are being scrutinised by the DGCA.
The government says that it is planning to create an online national registry of pilots - with an individual dossier on each one - to prevent pilots from fraudulently acquiring licences and jobs.
The civil aviation ministry has also formed a committee to ascertain the involvement of "insiders" - or touts - in the provision of fake licences.