Afghans investigate reports Nato raid killed civilians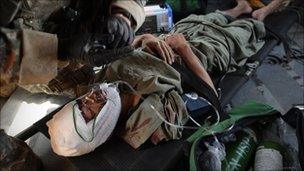 Afghan President Hamid Karzai has ordered an investigation into reports that a Nato-led raid killed a number of civilians earlier this week.
There have been conflicting accounts of what happened during the raid in the northern province of Sar-e Pol.
The local governor said five of those killed were civilians and only one was an insurgent. Nato says all those killed or arrested were militants.
The raid comes as tensions grow over the killings of civilians by Nato.
Analysts say the incident could worsen the already fragile relationship between the alliance and President Karzai, who has frequently expressed his anger over civilian casualties in military operations.
Sar-e Pol Governor Sayed Anwar Rahmati said four other Afghans were taken away by Nato troops during the raid in Sayad district.
A local official in the province told the BBC that the target of the operation was a Taliban cell commander, responsible for making roadside bombs. According to the official, the raid was a joint US and Afghan special forces operation.
President Karzai has asked the provincial governor to establish the identity of the victims and to find out the exact circumstances of the killings.
A statement from the Nato-led Isaf force on Tuesday confirmed the operation had been carried out jointly by Isaf and Afghan forces on Monday.
It said "several insurgents" had been killed and several suspected insurgents detained.
Asked if Isaf had anything to add to its statement in the light of reports of civilian casualties, a spokesman in Kabul told the BBC: "We are aware of the reports. We fully support President Karzai's decision and we look forward to the results of the investigation."
He said Nato troops had reported to their commanders that the insurgents were armed. "That's why they were engaged," the spokesman said.
Related Internet Links
The BBC is not responsible for the content of external sites.