India: Anna Hazare calls for anti-corruption protests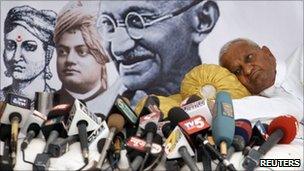 Hunger striking Indian activist Anna Hazare has called for mass protests by his supporters against corruption.
The 72-year-old campaigner is on the fourth day of a fast to push for stringent new anti-corruption laws.
He wants his followers to "fill India's jails" in a mass campaign of non-violent civil disobedience on 13 April.
Thousands of people have joined Mr Hazare's protest. In recent months India has been rocked by a string of corruption scandals.
On Thursday, the government agreed to include civil society members in a new panel which Mr Hazare is demanding be set up to draft tighter anti-corruption legislation.
But there were differences over who would lead the panel and whether it would have legal powers.
Latest reports say the government has agreed to most of Mr Hazare's demands and he will end his fast at 1000 (0430 GMT) on Saturday.
Mr Hazare said earlier on Friday that he wanted the "jail bharo" (fill the prison) movement to take place across India.
"But you should participate in the agitation keeping in mind Mahatma Gandhi. There should be no violence anywhere," he told his supporters.
India's governing Congress party leader Sonia Gandhi has urged Mr Hazare to give up his fast. She said his views would receive the government's "full attention" in the fight against corruption.
Doctors are checking Mr Hazare twice a day to monitor his health. The 72-year-old says he will refuse food until the government accedes to his demands.
There has been widespread support for Mr Hazare with protests and hunger strikes reported across India.
Some 2,000 people have joined the activist at the historic Jantar Mantar observatory in Delhi, where he is conducting his fast.
Correspondents say Mr Hazare has rallied people across the country disillusioned with the recent spate of scandals - he is highly respected as a social activist with an untarnished reputation.
Some of the recent corruption scandals to have angered Indians include a multi-billion dollar alleged telecoms scam, alleged financial malpractices in connection with the 2010 Delhi Commonwealth Games and allegations that houses for war widows were diverted to civil servants.
Last month the head of the country's anti-corruption watchdog was forced to resign by the Supreme Court on the grounds that he himself faced corruption charges.