Sri Lanka must account for missing - Human Rights Watch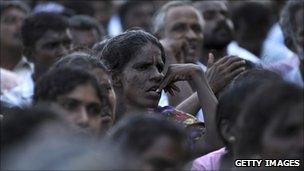 Sri Lanka's government should account for all those detained at the end of the war with Tamil Tiger rebels nearly two years ago, Human Rights Watch says.
The group said it believed that more than 20 people, including some rebels, had been "forcibly disappeared" after being captured by troops.
The Sri Lankan government denied the allegations, saying it had made public the names of all those it arrested.
Troops crushed the rebels in May 2009 after 26 years of bloody civil war.
Human Rights Watch Asia director Brad Adams said: "The Sri Lankan government needs to respond to all allegations of disappearances with more than a ritual blanket denial.
"Family members of the disappeared have the right to know if their loved ones are alive or dead."
Both sides were accused of atrocities in Sri Lanka's long conflict. The Tamil Tigers were fighting for an independent homeland for minority Tamils in the island's north and east.
As many as 100,000 people were killed, including some 7,000 in the final stages of the war, the United Nations estimates.
The BBC has heard numerous allegations from Tamils that their relatives are missing, among them a number of senior rebel fighters.
Related Internet Links
The BBC is not responsible for the content of external sites.