India state elections: Big turnout in final Assam poll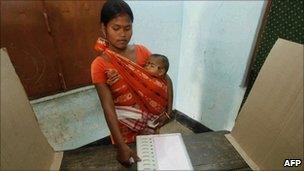 Polling has been completed with a substantial turnout for the second and final phase of assembly elections in India's north-eastern state of Assam.
Large numbers of voters began queuing at polling stations before booths opened at 7am [0130 GMT].
An estimated 70.35% turnout was recorded in 64 consistencies, India's election commission reported.
Security was tight in areas of the state where Bodoland separatists are fighting for an independent homeland.
Assam's poll was one of several key state elections. Over the next month polls will be also held in West Bengal, Tamil Nadu, Kerala and the union territory of Pondicherry.
The ruling Congress party is seeking a third successive term in Assam.
Problems with electronic voting machines were reported in Mancachar, Berhampur, Guwahati East, Jagiroad, Nalbari and Lumding constituencies, but they were soon rectified and voting continued uninterrupted, news agency Press Trust of India reported.
Polling for 62 of Assam's 126 assembly constituencies was held last week.
More than 8.5 million voters are estimated to have cast their ballots at 11,264 polling stations in the two-phase elections in the state.
More than 140 million voters are eligible to cast their votes at some 150,000 polling stations during these state polls. Counting is due on 13 May.
The incumbent Communists in West Bengal and Kerala are facing a stiff challenge from a regional Congress breakaway party and the main Congress party.
In Tamil Nadu, however, the DMK party, a key federal ally of the Congress, is fighting a rival regional party, AIADMK.
Related Internet Links
The BBC is not responsible for the content of external sites.