Asif Ali Zardari: Afghan war 'destabilising Pakistan'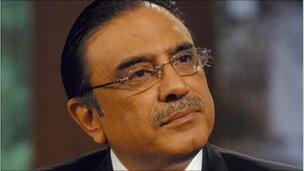 The Afghan war is "destabilising Pakistan" and undermining democratic development, Pakistan's President Asif Ali Zardari says.
It comes as ties between Pakistan and the US struggle to recover after the row over CIA contractor Raymond Davis.
Correspondents say it is one of his strongest statements on Afghanistan.
"Just as the Mexican drug war on US borders makes a difference to Texas and American society, we are talking about a war on our border which is obviously having a huge effect," Mr Zardari told the Guardian.
"I think it is maybe 12 years since America has become engaged in Afghanistan and obviously everybody's patience is on edge, especially the American public, which is looking for answers," he is also quoted as saying.
Mr Zardari also said the security situation was undermining attempts to bolster democratic institutions weakened during the military rule of his predecessor, Gen Pervez Musharraf.
"Democracy is evolving. It's a new democracy. It takes time to bring institutions back," he said.
The BBC's Syed Shoaib Hasan in Karachi says that many in Pakistan feel that the US continues to point fingers at the country's instability, while directly contributing to it with its actions along the Afghan border.
Pakistan's leadership increasingly feels its support for the US war in Afghanistan is costing it dear, in terms of popular support, our correspondent says.
He adds that anti-US sentiment, among both ordinary Pakistanis and the country's top civil and military leaders, remains high.
Last month a Pakistani court freed a US CIA contractor after acquitting him of two counts of murder, when relatives of two Pakistani men he shot dead pardoned him in court.
The case had stoked anti-American feeling across Pakistan and led to angry demonstrations. Hardline religious parties were keen to see him punished. The controversy damaged relations between the US and Pakistan.
Meanwhile, a recent White House report said Pakistan lacked its own plan to fight insurgents in the country.
But President Zardari told the Guardian that this was not true and that most US politicians lacked an understanding of the situation.
"The United States has been an ally of Pakistan for the last 60 years. We respect and appreciate their political system. So every time a new parliament comes in, new boys come in, new representatives come in, it takes them time to understand the international situation, " he said in the interview.
Mr Zardari's statements are likely to meet with approval from Pakistan's security establishment, which increasingly feels the US is taking its Pakistani alliance for granted, says our correspondent.