Kashmir shutdown over 'Dogra certificate' for Jammu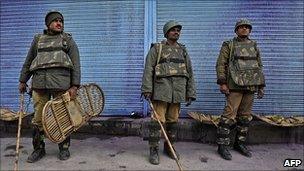 A protest against the government's decision to list residents of Jammu as members of the Dogra ethnic group has shut down Indian-administered Kashmir.
Shops, businesses, banks and schools are all closed in the Kashmir valley.
Hardline separatist leader Syed Ali Shah Geelani, who has called the strike, says the move will divide the state along ethnic lines.
The authorities say the Dogra certificate will make it easier for people to join paramilitary forces.
Criteria for applying for jobs in the army and other paramilitary forces, such as age and height, are relaxed for those possessing a Dogra certificate.
The government decision enables all residents of Jammu to obtain a Dogra certificate. The authorities say they are willing to extend the order to cover the rest of the state.
Chief Minister Omar Abdullah has written to the Indian home ministry about the issue. He has also convened a meeting of his cabinet colleagues to take a "fresh look" at the order.
Monday's shutdown follows two days of strike over the weekend to protest against the killing of a prominent religious leader in a bomb blast outside a mosque in Srinagar.
Maulvi Showkat Ahmed Shah was killed on Friday. He was entering the mosque when the bomb went off.
It is not clear who carried out the attack. The cleric was close to moderate separatist leader Yasin Malik.