India frees Pakistani prisoners in 'goodwill gesture'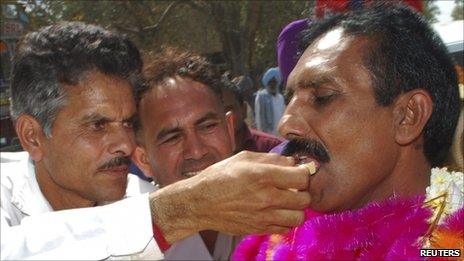 A group of 39 Pakistani prisoners - including two women - held in India have been allowed to return home by the Indian authorities.
It follows the release on Thursday by Pakistan of an Indian man who had served 27 years on spying charges.
Correspondents say the latest releases underscore an easing of tensions between the two rivals.
Officials say that those freed on Monday either overstayed their visas or illegally crossed into India.
"We are checking their documents and will send them to their respective places," a spokesman for Pakistan's paramilitary Rangers, Mehboob Hussain, told the AFP news agency.
He described the releases as a "goodwill gesture".
Earlier Indian authorities escorted the Pakistanis - who were held in eight separate prisons - to a border transit post in the northern city of Amritsar from where they left for home.
On Thursday Gopal Das was handed to Indian authorities at the Wagah border crossing, where he had an emotional family reunion and kissed the ground once he touched Indian soil.
Pakistan's president ordered his release on humanitarian grounds after an appeal from India's Supreme Court.
It came amid a series of diplomatic gestures during the cricket World Cup.
Indian Prime Minister Manmohan Singh invited Pakistani Premier Yousuf Raza Gilani and President Asif Ali Zardari to watch India face Pakistan in the semi-final of the tournament in the northern Indian city of Mohali.
Mr Gilani became the most senior Pakistani leader to visit India since 2001.
Indian and Pakistani officials were already in discussions over the resumption of formal peace talks between the nuclear-armed rivals.
The talks had been called off after the Mumbai attacks of 2008, which killed more than 170 people, and which India says were planned in Pakistan.
Pakistan and India have fought three wars since the partition of the subcontinent in 1947. They have agreed to a series of high-level talks until July to shore up their sometimes fragile relations.