Afghanistan: Drone missile 'killed two US soldiers'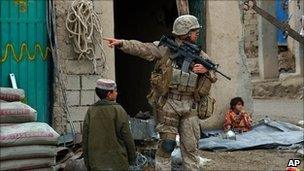 A drone missile strike is suspected of killing two US soldiers by mistake in southern Afghanistan last week, US military officials have said.
The apparent case of "friendly fire" is being investigated - if it is confirmed it would be a rare instance of pilotless aircraft killing US forces.
The incident took place in Helmand province where US-led troops are trying to push back Taliban insurgents.
US drones frequently target suspected militants in Afghanistan and Pakistan.
Critics say hundreds of civilians have also been killed in such strikes in recent years.
The two US soldiers who lost their lives - sergeant Jeremy Smith, 26, and seaman Benjamin Rast, 23 - were part of a unit sent to reinforce marines coming under heavy fire from insurgents outside the town of Sangin, US network NBC News, which first reported the incident, said.
The marines, who were watching a video feed from the armed Predator drone overhead, saw infrared images moving towards them on the feed and may have concluded that those were insurgents instead of fellow marines, NBC reported.
The Pentagon has yet to comment on the deaths, saying they are being investigated.
Related Internet Links
The BBC is not responsible for the content of external sites.