Nepal: New Energy Minister Gokarna Bista is stabbed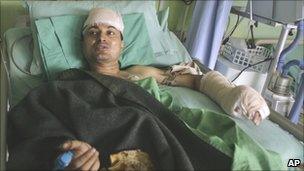 Authorities in Nepal are looking for men who attacked a government minister in the capital, Kathmandu.
Gokarna Bista, who was appointed energy minister on Monday, was stabbed a few hours later outside his house.
Mr Bista received injuries to his head and neck and was taken to hospital. Medics said his condition was critical, but stable.
Police said the motive for the attack was not known. More than 50 people have been detained for questioning.
Mr Bista was approached by men on motorbikes carrying traditional Nepali khukuri knives.
He sustained injuries to his arms, head and neck and was taken to a nearby hospital.
The BBC's Joanna Jolly in Kathmandu says that the attack is the latest in a series of high profile crimes in the capital.
On Sunday an Indian businessman was shot dead outside his shop in the centre of the city.
Our correspondent says that Nepal is in the middle of a political transition as it prepares to write a new democratic constitution after 10 years of civil conflict between Maoist rebels and the state.
But, as politicians focus on this process, many Nepalis feel that the security situation within the country is worsening.
On Monday, Prime Minister Jhalanath Khanal expanded his cabinet by adding 12 new ministers from his own party, the Communist Party of Nepal-Unified Marxist-Leninist (CPN-UML).
Related Internet Links
The BBC is not responsible for the content of external sites.