Ballots cast in key Indian state elections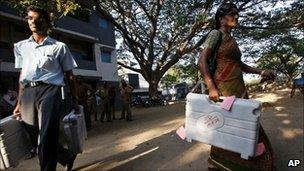 Voting for assembly elections has ended in the southern Indian states of Tamil Nadu and Kerala and the union territory of Pondicherry.
A high turnout has been reported, with more than 70% of the voters casting their ballots in the two states and the union territory.
A large number of paramilitary troops and state police were deployed to ensure the vote passes off peacefully.
The polls are among a number of several important state elections in India.
In the north-eastern state of Assam - where the ruling Congress party is seeking a third successive term - voting was completed on Monday.
Over the next month, polls will be held in West Bengal - where the Marxist leadership is being challenged by the Trinamul Congress - a regional Congress breakaway party.
The incumbent Communists in Kerala are also facing a stiff challenge from the Congress party.
In Tamil Nadu, the ruling DMK party - a key federal ally of the Congress party - is fighting a rival regional party, the AIADMK.
More than 140 million voters are eligible to cast their votes at some 150,000 polling stations during these state polls. Counting is due on 13 May.
Related Internet Links
The BBC is not responsible for the content of external sites.