Afghanistan: Bomber kills Kunar elder Malik Zarin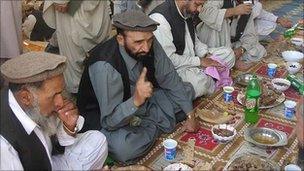 A suicide bomber has killed at least 10 people in an attack on tribal elders in eastern Afghanistan, the interior ministry has said.
Pro-government tribal elder Haji Malik Zarin was killed in the blast in Kunar province near the Pakistan border.
Mr Zarin, a close ally of President Hamid Karzai, died along with his son and another family member.
A Taliban spokesman denied the group carried out the attack, saying that Mr Zarin had "his own enemies".
President Karzai's office described the killing as a "tragic loss".
The BBC's Quentin Sommerville in Kabul says that the area where the attack took place has seen an upsurge in violence.
Mr Zarin was a former military commander in the civil war in the 1990s and had survived a previous assassination attempt.
He was killed as a village shura, or meeting of local elders, came to an end in Asmar district.
"The suicide attacker approached them, hugged Malik Zarin and then detonated the explosives strapped to his body," district police chief Mohammad Shoaib told the AFP news agency.
The attack took place when elders from two tribes - some of them former warlords - were holding a meeting to discuss the course of the Afghan war.
Correspondents say that the Taliban and other insurgents frequently target pro-government figures as part of their campaign against government forces and about 130,000 international troops in Afghanistan.
Mountainous Kunar is among Afghanistan's most restive provinces and is one of the chief strongholds of the Taliban and their al-Qaeda-linked allies.
Mr Zarin, who is thought to have been in his 70s, led the High Peace Council based in Kunar before his death.
According to one of his cousins, he had recently spoken against al-Qaeda and Pakistan's powerful spy agency, the ISI.
Mr Zarin had gone to the shura with 40 of his supporters - including his brother and son - to urge locals to help the government tackle the Taliban and foreign fighters.
The attack took place in the village of Chaji, a few hundred metres from the district governor's office.
His body has now been flown across the border to Maskeni village in Pakistan's Dir district, where he had a house.
The BBC's Bilal Sarwary in Kabul says that his death is a blow to President Karzai, who has not only lost a friend, but also a strongman who helped extend the government's writ in lawless rural areas such as Kunar.
Married with four wives, he was a native of Asmar district - from where he launched an uprising against the Soviet invasion of Afghanistan in the early 1980s, our correspondent says.