Pakistan: US drone raid 'kills four' in S Waziristan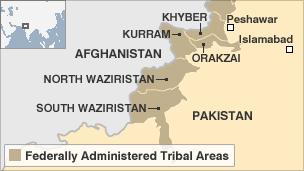 US drone aircraft have killed at least four people in a missile attack in the Pakistani tribal area of South Waziristan, local officials say.
Four missiles were fired in the Angoor Adda area, the officials say.
One hit a vehicle carrying the four who were killed. Locals say another missile hit a house - casualties in that attack are still unclear.
The raid comes amid tensions between the US and Pakistani authorities over drone strikes.
"I heard four blasts while several drone [aircraft] were flying over the area," local resident Rahimullah Wazir told Reuters news agency.
It is not clear who died in the attack, although Pakistani military officials are quoted saying several militants were killed.
Correspondents say this is thought to be the first drone strike since an attack in North Waziristan on 17 March killed some 40 people, most of them believed to be civilians attending a tribal meeting.
In rare public condemnation, Pakistan's army chief Gen Ashfaq Pervez Kayani called that raid "intolerable and unjustified".
On Tuesday, the New York Times quoted unnamed Pakistani officials saying Pakistan had asked the US to reduce the number of CIA agents in the country and to limit drone strikes along the Afghan border.
US officials denied the reports.
Drone attacks are hugely unpopular with the Pakistani public. Correspondents say they have the tacit approval of the authorities, but Pakistani leaders deny secretly supporting the strikes.
Many militants, some of them senior, have been killed in the raids. Hundreds of civilians have also died.
The US does not routinely confirm it is conducting drone operations in Pakistan, but analysts say only American forces have the capacity to deploy such aircraft in the region.
US-Pakistani relations are still recovering after CIA contractor Raymond Davis shot dead two men in Lahore earlier this year. Mr Davis was held on murder charges for weeks and only freed after relatives of the men he shot dead pardoned him in court. He maintained the men had been trying to rob him.
The case stoked anti-American feeling across Pakistan and led to angry demonstrations - particularly when it emerged that he worked for the CIA.