India and China agree to resume defence exchanges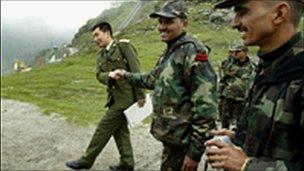 India and China have agreed to resume defence exchanges which were halted last year after China refused a visa to a Kashmir-based general.
India had suspended the exchanges, saying that China had to be sensitive to its concerns over disputed Kashmir.
Defence ties have remained tentative due to long-standing disputes and a lack of trust between the countries.
The two countries have also agreed to work together to resolve their land border dispute.
The two nations fought a brief border war in 1962, but ties have improved.
Tensions remain, however, between the rising regional powers over their shared 3,500-km (2,170-mile) border, decades on from the conflict which China won.
Indian Prime Minister Manmohan Singh and Chinese President Hu Jintao also pledged to strengthen economic ties during talks in Beijing.
Mr Singh is visiting China to attend a summit that includes Brazil, Russia, India, China and South Africa.
"They also discussed further defence exchanges and visits," India's National Security Adviser Shiv Shankar Menon told reporters.
The two countries have also agreed to boost economic ties.
In December, the two sides announced they plan to increase bilateral trade to $100bn (£66bn) by 2015, up from $60bn in 2010.
China is India's largest trading partner. However, they still share a very unbalanced trade relationship and India wants to export more to China to reduce its trade deficit with its neighbour.
Related Internet Links
The BBC is not responsible for the content of external sites.