India cricketers' tour of Pakistan 'not in near future'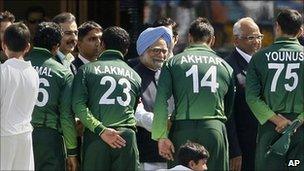 India's cricket team is not likely to visit Pakistan in the near future, an Indian cricket official has said.
Rajiv Shukla's comment came after media reports said the prime ministers of two countries had decided in-principle to resume bilateral cricket ties.
Last month, Indian PM Manmohan Singh hosted Pakistani PM Yousuf Raza Gilani for the World Cup semi-final in Mohali.
The two PMs had vowed to repair relations as they watched India beat Pakistan in the match.
Mr Shukla, who is the vice president of India's cricket board, told the BBC that they had not received any word from the government on resumption of cricket ties between the two neighbours.
"We've only seen media reports," he said.
Mr Shukla said there are no free slots available on the cricket tour calendar to accommodate an India-Pakistan series until the end of March 2012.
The International Cricket Council has also not cleared Pakistan as a venue after the visiting Sri Lankan team was attacked in Lahore in March 2009.
Six Sri Lankan cricketers were injured in the attack and no international team has visited Pakistan since then.
On Wednesday, media reports, quoting government sources, said that Mr Singh and Mr Gilani had agreed to resume bilateral cricketing ties.
They said the Indian team would tour Pakistan first and the Pakistani team would then pay a return visit.
The time of the visit, the venues and other logistics would be decided by the cricket boards of the two countries, reports said.
India suspended bilateral cricketing ties with Pakistan after the Mumbai (Bombay) attacks of November 2008.
The last bilateral series between India and Pakistan was in 2007-2008 when the Pakistani team visited India.
Inviting Mr Gilani to Mohali last month, Mr Singh said cricket had been a "uniting factor" and that they should cast aside "ancient animosities".
During their talks, Mr Gilani invited Mr Singh to visit Pakistan. He also said he hoped that the Indian cricket team would play in Pakistan soon.
Related Internet Links
The BBC is not responsible for the content of external sites.