Pakistan: US drones are 'core irritant' in terror fight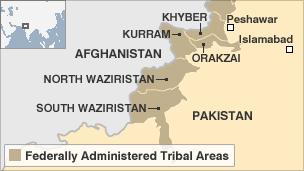 Pakistan has sharply criticised the United States for a missile attack on Wednesday in which six people were reported killed near the Afghan border.
"Drone attacks have become a core irritant in the counter-terror campaign," the foreign office said.
It was the first such raid in a month and came after Pakistan's spy chief met his US counterpart to discuss a deep rift over CIA activities in Pakistan.
There was huge anger after a drone raid killed dozens of civilians on 17 March.
That attack in North Waziristan drew rare condemnation from Pakistan's powerful military chief.
Although several militants were reported killed, the vast majority of the dead were civilians attending a tribal meeting.
Pakistani officials are quoted saying a number of militants were killed in Wednesday's attack in the Angoor Adda area of South Waziristan, a militant stronghold.
The media are barred from Pakistan's tribal areas and it is impossible to verify the claims independently.
But the timing of the attack prompted the Pakistani foreign office to protest to the US ambassador.
"We have repeatedly said that such attacks are counter-productive and only contribute to strengthen the hands of the terrorists," it said in a statement.
"Pakistan has taken up the matter with the US at all levels."
Reports this week said Pakistan was demanding a cut in the number of CIA personnel in Pakistan.
US-Pakistani relations are still recovering after CIA contractor Raymond Davis shot dead two men in Lahore earlier this year.
Mr Davis was held on murder charges for weeks and only freed after relatives of the men he shot dead pardoned him in court. He maintained the men had been trying to rob him.
The case stoked anti-American feeling across Pakistan and led to angry demonstrations - particularly when it emerged that he worked for the CIA.
Drone attacks are hugely unpopular with the Pakistani public. Correspondents say they have the tacit approval of the authorities, but Pakistani leaders deny secretly supporting the strikes.
Many militants, some of them senior, have been killed in the raids. Hundreds of civilians have also died.
The US does not routinely confirm it is conducting drone operations in Pakistan, but analysts say only American forces have the capacity to deploy such aircraft in the region.