Pakistan militants killed 2,500 in 2010, report says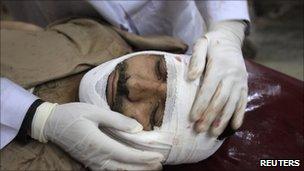 More than 2,500 people were killed in militant attacks in Pakistan in 2010, according to the independent Human Rights Commission of Pakistan (HRCP).
Nearly half of victims were civilians killed in suicide blasts. There were 67 such attacks last year, the group said.
The report also said at least 900 people had been killed in US drone strikes during the same period.
The number of people killed by the army is not mentioned, but it estimated to be in the region of 600-700.
Pakistani troops are battling insurgents across the north-west. Many of those it has killed are believed to be militants, but civilian lives have been lost too.
The HRCP is the main human rights watchdog in the country. Its findings are often disputed by the authorities, the BBC's Syed Shoaib Hasan in Karachi says.
The group's findings show a rise in the numbers being killed in Pakistan's conflict.
BBC research published last July suggested 1,713 people had been killed by militants over the preceding 18 months, while 746 people had died in drone attacks during the same period.
The HRCP released its data in its annual report on the state of human rights and security in Pakistan between January and December 2010.
"Pakistan's biggest problem continues to be violence carried out militants," HRCP chairman Mehdi Hasan said.
"In 2010, 67 suicide attacks were carried out across the country in which 1,169 people were killed," he said. "At least 1,000 of those were civilians."
Dr Hasan said that in all 2,542 people had been killed in militant attacks in the country last year.
He said the most glaring example of government oversight had been in Balochistan province, where targeted killings shot up rapidly with 118 people being killed in 2010.
Dr Hasan said the figure was set to increase in 2011, as the government seemed unconcerned about the unravelling of the law and order situation in Balochistan.
The HRCP report also spoke about increasing intolerance against religious minorities in the country.
It said 99 members of the Ahmedi (Qadiani) sect had been killed in attacks in 2010, while 64 people had been charged under the country's blasphemy law.
There was no immediate response to the report from the Pakistani authorities, nor was there any word from militant groups.
Related Internet Links
The BBC is not responsible for the content of external sites.