India's much-loved Alphonso mango hit by poor weather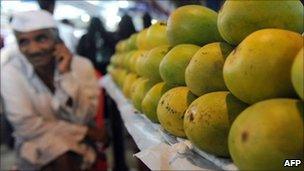 A cold winter and unseasonable rains have led to a severe shortage of much-loved Alphonso mangoes in the Indian city of Mumbai (Bombay).
The price of the sweet-tasting fruit, used in religious rituals and in various drinks, has doubled from 2010.
Boxes of a dozen are now selling for as much 2,500 rupees ($56).
The Maharashtra State Agricultural Marketing Board said that production had dropped by around 30% of the normal yield.
It says that the export of Alphonsos had been adversely affected.
Experts say that the reason for the decline in output is because areas in the Konkan region where the Alphonso is grown have been hit by a harsh winter.
"This is a coastal area and the temperature hardly drops below 17 or 18C," said Dr Subhash Chavan, a fruit research expert.
"But it dipped [below that] for 65 days between December and February and as a result, the fertilisation process was adversely affected."
The BBC's Vineet Khare in Mumbai say that India is the largest producer of mangoes in the world, but it has not yet acquired a corresponding hold of the international market.
The country boasts more 1,000 varieties of the fruit.
India produces nearly 13 million tonnes of mangoes - about 40% of the world's output - with Maharashtra among the main producers.
The orange-yellow coloured Alphonso is locally named "the king of fruits".
It is hugely popular overseas, especially in the Middle East, Europe and the US.
Dr Vivek Bhide, who exports the Alphonso to the US and Singapore, said that there had been only 10% of the normal yield.
He said that he was not able to complete export orders because the mangoes were unavailable.
"I have been in this business for 30 years, yet I have never experienced this kind of shortage before," he said.
Food inflation is currently at 9.18% in India - which like its Asian rival China - is battling to balance inflation with economic expansion.
But manufacturers of mango-based products remain confident that despite the higher prices and the shortages, business will not be affected.
The bad weather has also hit India's onion crop, resulting in higher prices and a shortage of the staple food that provides the foundation for thousands of meals.
Related Internet Links
The BBC is not responsible for the content of external sites.